Editor's Note: With so much market volatility, stay on top of daily news! Get caught up in minutes with our speedy summary of today's must-read news and expert opinions. Sign up here!
(Wallace Refiners) – The gold market still looks healthy despite Monday's $100 price decline, the biggest one-day drop in seven years, according to one fund manager.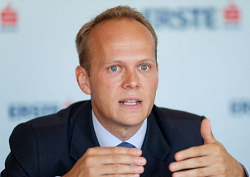 Ronald-Peter Stöferle, fund manager of Incrementum AG
Ronald-Peter Stöferle, fund manager of Incrementum AG and one of the authors of the annual In Gold We Trust Report, said that Monday's announcement that Pfizer and BioNTech potentially have a vaccine for the COVID-19 virus could actually be the catalyst that drives gold prices higher.
Although prices are still under the psychologically important level at $1,900 an ounce, investors have been bargain hunting after Monday's sharp drop. December gold futures last traded at $1,881.10 an ounce, up 1.44% on the day.
Stöferle said that if investors want to know where gold prices are going, look at other commodities and how they are contributing to rising inflation. While gold prices dropped 5% on Monday, oil prices rallied nearly 10% as investors became optimistic that a vaccine would boost global economic growth.
"I have been saying it a lot lately in several presentations, but all roads right now lead to gold," Ronald-Peter Stöferle said. "The major inflationary driver going forward will be the COVID vaccine."
Stöferle said that a perfect storm is brewing in the gold market as rising consumer confidence on a potential vaccine meets all the liquidity that has been pumped into financial markets since the spring. He added that even if economic activity improves at the start of the new year, there is still incredible pressure on central banks around the world to maintain their ultra-loose monetary policies.
"This is a perfect environment for both gold and silver," he said. "Central banks are actually quite desperate to create more, more inflation. So low nominal rates and higher inflation rates mean negative real rates forever, basically."
Even if central banks would like to raise interest rates in an improving economic environment, Stöferle said that they won't be able to as debt has grown out of control. He noted that private debt, commercial debt and government debt have jumped significantly higher this year.
"All this government debt is not going to go away because we potentially have a vaccine," he said.
As for what investors should do following Monday's price drop, Stöferle said that he is looking to use this as a buying opportunity.

"We have always said that this is a stealth a bull market in gold. What should you do in a bull market? You should buy the dips," he said. "I think the foundation for the bull market is here and it's stronger than ever."

Disclaimer: The views expressed in this article are those of the author and may not reflect those of Wallace Precious Metals The author has made every effort to ensure accuracy of information provided; however, neither Wallace Precious Metals nor the author can guarantee such accuracy. This article is strictly for informational purposes only. It is not a solicitation to make any exchange in commodities, securities or other financial instruments. Wallace Precious Metals and the author of this article do not accept culpability for losses and/ or damages arising from the use of this publication.