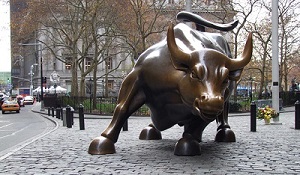 Editor's Note: With so much market volatility, stay on top of daily news! Get caught up in minutes with our speedy summary of today's must-read news and expert opinions. Sign up here!
(Wallace Refiners) – Frustration is giving away to relief as sentiment in the gold market turns solidly bullish among Wall Street analysts and Main Street investors, according to the latest results from the Wallace Refiners Weekly Gold Survey.
Positive sentiment in the precious metals market dramatically shifted Thursday when gold prices pushed above $1,800 an ounce for the first time since February. Many analysts noted that gold's solid break above what has proven to be a sticky resistance point is creating momentum in the marketplace that could push prices to $1,850 an ounce.
Gold's rally saw another solid boost Friday as investors jumped into the precious metal following a significant miss in April's nonfarm payrolls report. The report said that 266,000 jobs were created in April; however, according to consensus estimates, economists were looking for job growth of nearly 1 million. According to reports, this is the second biggest miss in employment estimates on record.
While a fuse has been lit under gold, it is not all clear sailing. Some analysts note that the precious metal could find some sticky resistance between $1,830 and $1,850 an ounce.
Thursday, in an interview with Wallace Refiners, Bill Baruch, president of Blue Line Futures, said that while he is bullish on gold, it needs to attract significant momentum to get above $1,850 an ounce.
This week, 16 analysts participated in Wallace Refiners' gold survey. Of those, 14 analysts, or 88%, said they were bullish on gold; at the same time, two analysts, or 13%, said they were bearish on prices next week. There were no neutral votes for the gold prices this week.
Meanwhile, a total of 1,485 votes were cast in online Main Street polls. Of these, 1,122 respondents, or 76%, looked for gold to rise next week. Another 203, or 14%, said lower, while 160 voters, or 11%, were neutral.

The renewed bullish sentiment, particularly among Wall Street analysts, comes as gold prices see their best weekly gains since early November. June gold futures last traded at $1,836.10 an ounce, up more than 3% since last Friday.

Ole Hansen, head of commodity strategy at Saxo Bank, said that because of the disappointing employment data, recent talk of the Federal Reserve potential tapering its bond-purchasing program by the end of the year is completely off the table for now.

He added that gold prices could continue to push higher as falling bond yields help and force some investors to cover their speculative short positions.

Although gold has broken out of its range, Hansen said that he also doesn't expect to see significant momentum until gold pushes above $1,850 an ounce, which represents an important technical retracement level as well as its 200-day moving average.

"Gold has made an important move, but it's still in a downtrend. However, I am bullish on gold based on this breakout," he said.

Adrian Day, president of Adrian Day Asset Management, said that while gold prices won't move up in a straight line, the market is well supported as the U.S. government continues to push its "wild spending" proposals.

"Gold remains under-owned, so it will rally as more investors take positions," he said.

As to how high prices could go, Darin Newsom, president Darin Newsom Analysis, said that if prices can push above $1,842.90 an ounce, his next target is $1,894.

However, not all analysts are bullish on gold as some expect higher prices to attract some selling pressures, especially as the U.S. economy continues to recover from the COVID-19 pandemic.

Marc Chandler, managing director Bannockburn Global Forex, was one of the contrarian voices in the latest survey. He added that the $1,850 area could prove to be a significant resistance point.

"The underlying signal is really that the economy is booming. So I would look to fade the gold rally as it approaches the $1,850-55 area," he said.
Disclaimer: The views expressed in this article are those of the author and may not reflect those of Wallace Precious Metals The author has made every effort to ensure accuracy of information provided; however, neither Wallace Precious Metals nor the author can guarantee such accuracy. This article is strictly for informational purposes only. It is not a solicitation to make any exchange in commodities, securities or other financial instruments. Wallace Precious Metals and the author of this article do not accept culpability for losses and/ or damages arising from the use of this publication.