Wallace Refiners has launched its 2021 Outlook, which offers the most comprehensive coverage of precious metals markets in the new year. Trillions of dollars were pumped into financial markets in 2020 and that won't come without consequences. Economists expect that investors will be Bracing For Inflation in 2021.
(Wallace Refiners) – Overall the top 20 gold miners are projected to lose ~5% of their total 2020 gold output primarily because of the pandemic and related suspensions. In 2021 gold production is likely to rebound. Based upon mid-point outlook projections, production will be ~6% more than a revised post-Covid guidance for 2020.

The world's gold mining industry faced unprecedented challenges this year caused by Covid-19 related suspensions that were major factors behind a noticeable production drop recorded in several regions. North America, South America and Africa felt the greatest impact.

Wallace reported that Canada produced 1,160 koz of gold in Q2 2020. This was significantly less (-22%) than 1,482 koz mined in Q2 2019. Gold production in Quebec in Q2 2020 declined by a record 32% over Q2 2019 and output of yellow metal in Ontario decreased by 17%.

The primary factor behind the production decline was both government–mandated and voluntary suspensions.

To analyze a preliminary impact this pandemic has had on gold miners so far, we looked at three reported indicators:
Pre-Covid gold production outlook

Revised "post-Covid" outlook

The most recent 2021 production guidance released by the top 20 gold mining companies that were ranked by the volume of gold projected to be mined out in 2021.
Only those companies that reported production results on a quarterly basis were considered. In cases where companies released guidance within low and high range, mid-point numbers were included.

In cases where companies had not yet released their production guidance for the year, we considered pre-Covid 2020 plans for 2021 outlook instead.

As can be seen from the chart below, the top 20 gold mining companies planned to mine approximately 39,118 koz of gold in 2020 before the emergence of Covid-19.

After suspensions were lifted, many affected companies have revised their respective 2020 production outlooks and as a result this number has declined to ~37,291 koz of gold.

Based on mid-point outlook, the top 20 gold miners overall are now projected to lose ~5% of their 2020 gold output primarily because of measures they have undertaken in order to prevent and mitigate negative impacts of the pandemic.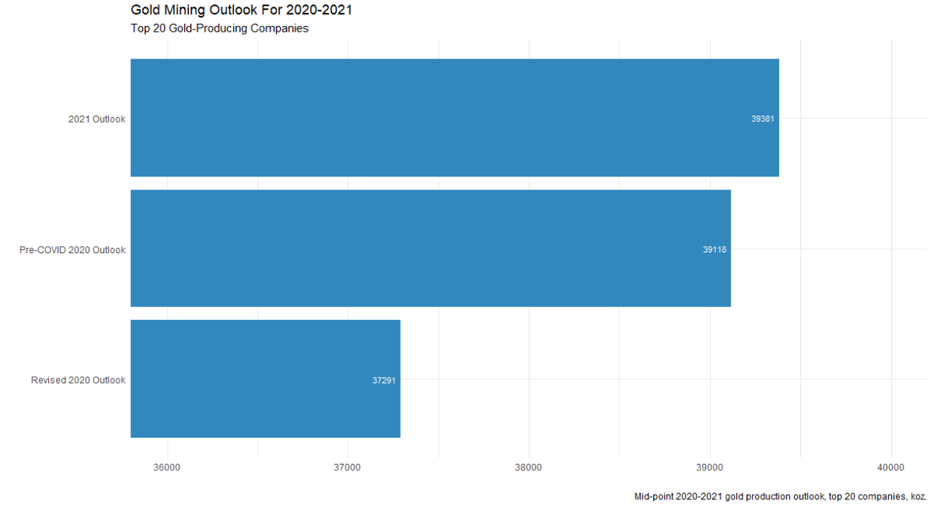 On the bright side, many gold miners have posted record gold output growth in Q3 2020 as they were eager to make up for production lost during suspensions.  

As for 2021, the top 20 gold miners plan to mine ~39,381 koz of gold calculated as the total of mid-points of their respective production outlooks, which is ~6% more than a revised "post-Covid" guidance for 2020.

As expected, gold miners with assets located in the regions with a mandated pandemic – related suspensions were impacted the most. Those companies are highlighted in gold in a table below.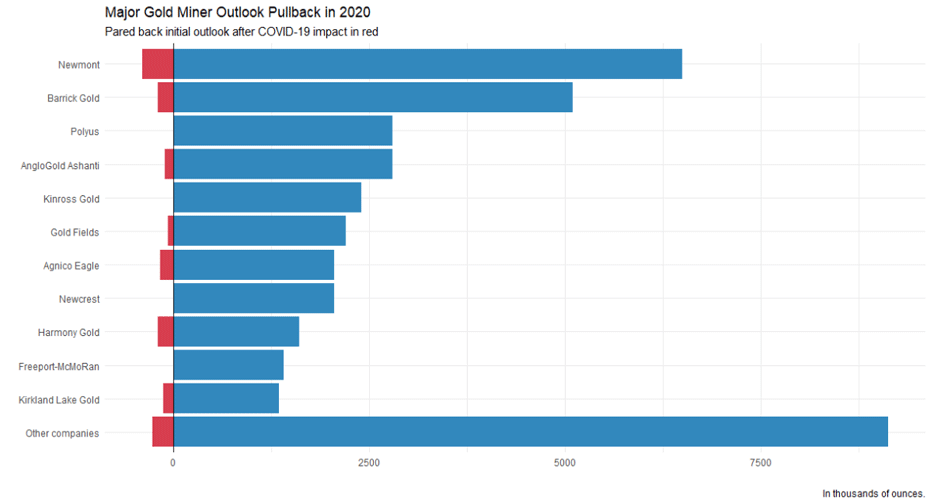 Change in mid-point guidance, Top 20 gold producers.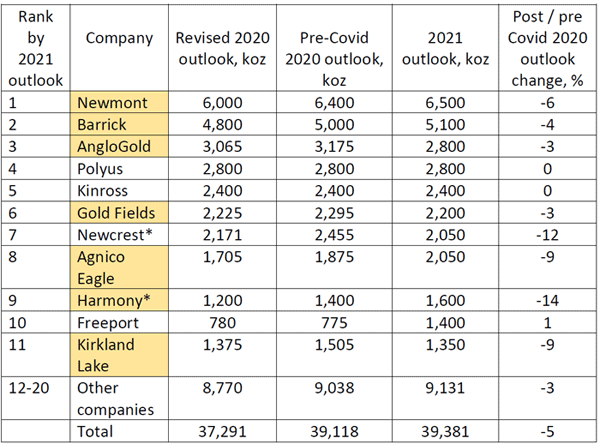 Companies affected by Covid-19 the most are highlighted in gold. * Actual production data for the year ended June 30, 2020.
Disclaimer: The views expressed in this article are those of the author and may not reflect those of Wallace Precious Metals The author has made every effort to ensure accuracy of information provided; however, neither Wallace Precious Metals nor the author can guarantee such accuracy. This article is strictly for informational purposes only. It is not a solicitation to make any exchange in commodities, securities or other financial instruments. Wallace Precious Metals and the author of this article do not accept culpability for losses and/ or damages arising from the use of this publication.