Editor's Note: With so much market volatility, stay on top of daily news! Get caught up in minutes with our speedy summary of today's must-read news and expert opinions. Sign up here!
(Wallace Refiners) – The precious metals market took a major hit on Friday as technical selling pressure accelerated the move lower across the board.
Gold dropped more than $50, while silver was down $1.30 on Friday, with investors digesting higher U.S. Treasury yields and a rising U.S. dollar.
The 10-year Treasury yield rose above 1.6% overnight — the highest level in a year. Meanwhile, the U.S. dollar climbed higher, with the U.S. dollar index last trading at 90.89, up 0.83% on the day.
For gold, this culminated in a drop to fresh eight-month lows. April Comex gold futures were last trading at $1,725.30, down 2.82% on the day. Silver also plummeted nearly 5% on the day, with March Comex futures last at $26.32, down 4.77% on the day.
"Gold is continuing to face a massive headwind from the bond market. Yields on ten-year U.S. Treasuries climbed yesterday to peak at 1.6%. They had still been just 1.3% when the week began. A surge in yields of around 30 basis points in the space of just a few days is a bitter pill for gold to swallow, as it does not itself yield any interest," explained Commerzbank analyst Carsten Fritsch.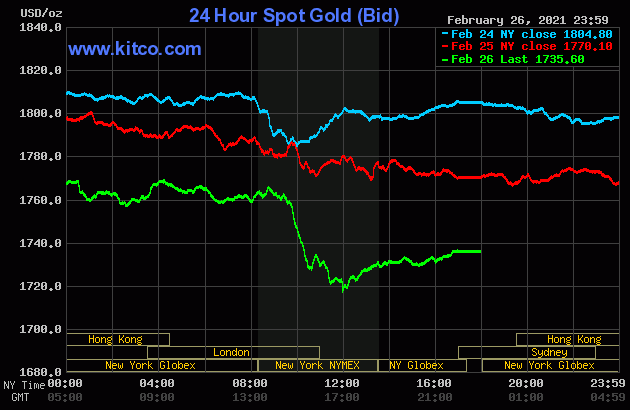 "The main issue for gold here is lack of interest", said strategists at T.D. Securities. "The Fed's reactive, rather than proactive, approach to the steepening in the yield curve is sparking a sharp rise in real rates, and while the safe-haven properties of the yellow metal can offer support, gold-as-safe-haven doesn't bode well for investment flows into gold," the strategists said on Friday.
Until the Federal Reserve signals that it will consider yield-curve-control, the gold price could continue to suffer.
"The Fed is testing the rates market, which may in turn force the market to test sky-high asset valuations, which may, in turn, add pressure on the Fed to move back to a proactive approach and curb the steepening. Yet, that is unlikely before real rates rise enough to harm gold in the process. We're now heading in the direction of this pivot point, but it's still early," the strategists added.
For some reason, the market remains unconvinced that the Fed will be sticking to its ultra-loose monetary policy in light of the rising yields, added Fritsch.
"What is remarkable is that bond yields are continuing to climb sharply despite Fed Chair Powell having made it clear this week that the Fed will be sticking with its ultra-loose monetary policy for quite some time yet. It seems that the market does not believe the Fed, or it fears that the Fed is making a policy error and underestimating the rise in inflation," he said on Friday. "If this turns out to be the case, gold would therefore rise all the more steeply. That said, things look pretty bleak for gold in the short term."
"If this trend continues, gold will register its sixth monthly loss from the past seven" said FXTM market analyst Han Tan.
"With rising Treasury yields dealing a blow to the non-yielding precious metal. Bullion's year-to-date losses stand at 7.12% at the time of writing," Tan said. "Despite the threat of rising inflation, investors are clearly willing to ditch gold in favor of other assets that can better ride on the economic recovery's coattails, as well as the subsequent overshoot in prices."
Disclaimer: The views expressed in this article are those of the author and may not reflect those of Wallace Precious Metals The author has made every effort to ensure accuracy of information provided; however, neither Wallace Precious Metals nor the author can guarantee such accuracy. This article is strictly for informational purposes only. It is not a solicitation to make any exchange in commodities, securities or other financial instruments. Wallace Precious Metals and the author of this article do not accept culpability for losses and/ or damages arising from the use of this publication.