Editor's Note: With so much market volatility, stay on top of daily news! Get caught up in minutes with our speedy summary of today's must-read news and expert opinions. Sign up here!
(Wallace Refiners) – Gold and silver prices are higher in early morning U.S. trading Friday and hit 10- and 9-week highs, respectively. The metals got a booster shot after a very downbeat U.S. jobs report was just released. The U.S. dollar index and U.S. Treasury yields have backed down late this week and those are also bullish elements for the precious metals markets. The near-term technical postures for both metals have improved markedly this week, which is inviting the shorter-term futures traders to the long side of the gold and silver markets. June gold futures were last up $21.90 at $1,837.50 and July Comex silver was last up $0.188 at $27.67 an ounce.
The key U.S. data point of the week and arguably of the month was just released as the Labor Department's Employment Situation Report for April showed a paltry non-farm payrolls rise of 266,000. Forecasts were for a 1 million rise compared to a rise of 916,000 in March. The unemployment rate came in at 6.1% versus 6.0% in March. The March non-farm payrolls number was also revised down to 770,000. This report at least temporarily throws some cold water on notions the Federal Reserve may be forced to raise interest rates much sooner than many expected.
Global stock markets were mixed but mostly higher overnight. U.S. stock indexes are pointed toward mixed openings when the New York day session begins. Trader and investor appetite remains mostly upbeat late this week. However, traders have taken note of comments from Fed Governor Lael Brainard Thursday, who said in a report that rising appetite for risk across a variety of asset markets is stretching valuations and creating peril in the U.S. financial system. "Vulnerabilities associated with elevated risk appetite are rising,"  she said. The combination of stretched valuations with very high levels of corporate indebtedness may prompt a major "re-pricing event," she said. Some market watchers are already musing about a hawkish Fed stance at the Jackson Hole, Wyoming annual Fed confab in August.
More and more, the "reflation trade" is coming back into vogue. Copper prices overnight hit a record high amid surging demand for construction and building materials. A Dow Jones Newswire headline Friday read, "Higher Steel, Precious Metals Prices Vex Auto Makers in 1Q."
In overnight news, China reported its April exports were up 32.3%, year-on-year, while its imports rose 43.1% in the period. Both numbers were even better than expected, further underscoring the voracious demand for raw commodities that is only likely to grow even stronger in the coming months.
The key outside markets today see the U.S. dollar index lower. Nymex crude oil prices are weaker and trading around $64.40 a barrel. Meantime, the yield on the benchmark 10-year U.S. Treasury note is presently fetching around 1.515%.
Other U.S. economic data due for release Friday includes monthly wholesale trade and consumer credit data.
Technically, June gold futures bulls have the overall near-term technical advantage and have gained fresh power this week amid a price uptrend in place on the daily bar chart. Bulls' next upside price objective is to produce a close above solid resistance at $1,850.00. Bears' next near-term downside price objective is pushing futures prices below solid technical support at last week's low of $1,754.60. First resistance is seen at $1,825.00 and then at $1,840.00. First support is seen at the overnight low of $1,813.40 and then at $1,800.00. Wyckoff's Market Rating: 6.5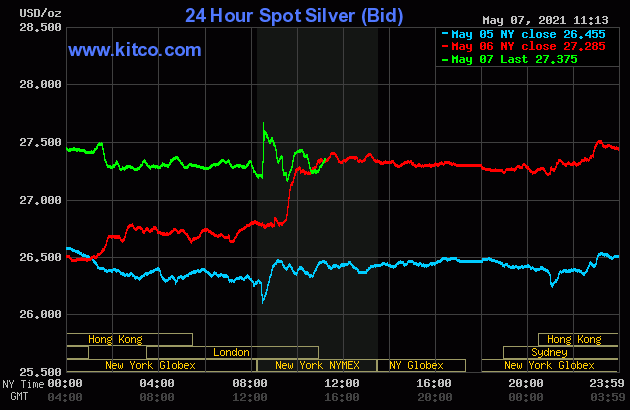 The silver bulls have the overall near-term technical advantage and have gained fresh power this week amid a price uptrend in place on the daily bar chart. Silver bulls' next upside price objective is closing July futures prices above solid technical resistance at $28.00 an ounce. The next downside price objective for the bears is closing prices below solid support at $26.00. First resistance is seen at the overnight high of $27.68 and then at $28.00. Next support is seen at $27.00 and then at $26.50. Wyckoff's Market Rating: 6.5.
Disclaimer: The views expressed in this article are those of the author and may not reflect those of Wallace Precious Metals The author has made every effort to ensure accuracy of information provided; however, neither Wallace Precious Metals nor the author can guarantee such accuracy. This article is strictly for informational purposes only. It is not a solicitation to make any exchange in commodities, securities or other financial instruments. Wallace Precious Metals and the author of this article do not accept culpability for losses and/ or damages arising from the use of this publication.