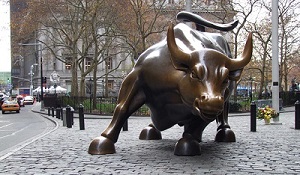 Editor's Note: With so much market volatility, stay on top of daily news! Get caught up in minutes with our speedy summary of today's must-read news and expert opinions. Sign up here!
(Wallace Refiners) – Wall street gold bears have gone into hiding as analysts have turned extremely bullish on the precious metal after prices broke above critical resistance at $1,765 and are now holding at their highest level in nearly two months.
This week in Wallace Refiners' Weekly Gold Survey, out of 13 participating Wall Street analysts, all said that they expect to see higher prices next week. This is the first time in the survey's history that 100% of all analysts have been bullish on gold.
For some analysts, sentiment is so strong in the marketplace because many have been anticipating this move after the precious metal bounced off critical support below $1,700 an ounce two weeks ago.
"That bounce of $1,680 brought a lot of comfort to gold bulls, and now it's just a matter of seeing how high they can take it," said Ole Hansen, head of commodity strategy at Saxo Bank.
Sentiment among retail investors was slightly more balanced than Wall Street's; however, it remains firmly bullish. A total of 1,103 votes were cast in online Main Street polls. Of these, 715 respondents, or 65%, looked for gold to rise next week. Another 201, or 18%, said lower, while 187 voters, or 17%, were neutral.
The precious metal is looking to end the week with a 2% gain because of gold's breakout. June gold futures last traded at $1,780 an ounce.
Although sentiment among Wall Street analysts is unprecedented, there is still a lot of caution in the marketplace. Hansen said that while he would be buying gold after Thursday's break, he would also recommend having a tight stop-loss at $1,755 an ounce.
He added that gold remains at the mercy of bond yields and the U.S. dollar.
Phillip Streible, chief investment strategist at Blue Line Futures, said that while he would also be buying gold on the break, he would also maintain aggressive trailing stops.
As to how high momentum on this break could take prices in the near term. Many analysts are keeping their eye on $1,800 an ounce.
Darin Newsom, president of Darin Newsom Analysis, said that prices could move as high as $1,822 an ounce.
"After the breakout, a pullback to $1,765 would not be surprising, but gold is acting like it wants to go higher," he said.
John Weyer, co-director of commercial hedging Walsh Trading, said that he is watching resistance at $1,785, and if inflation pressures continue to rise, then he would expect to see a "quiet climb above $1,800 an ounce."
Adam Button, chief currency strategist at Forexlive.com, said that he could see gold prices pushing to $1,840 an ounce.
Disclaimer: The views expressed in this article are those of the author and may not reflect those of Wallace Precious Metals The author has made every effort to ensure accuracy of information provided; however, neither Wallace Precious Metals nor the author can guarantee such accuracy. This article is strictly for informational purposes only. It is not a solicitation to make any exchange in commodities, securities or other financial instruments. Wallace Precious Metals and the author of this article do not accept culpability for losses and/ or damages arising from the use of this publication.